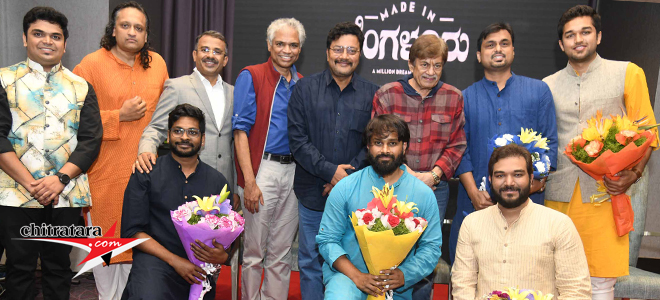 A disciplined, educated and passionate team headed by producer Balakrishna arrived with 'Made in Bengaluru'...One City Million Dreams is the caption for this Kannada film and the star cast selection is sure to get the worldwide audience for this film.
Look at versatile Ananthnag, dialogue king Saikumar and Prakash Belawadi, a towering actor today assembled with three youngsters Puneeth Manja, Vamshidhar and Madhusudhan Govind in the direction of Pradeep Shastry. This is in the production of Rajani Thursday Stories banner, Ashwini Kumar handling music, Shanthakumar as editor and Bhajarang Konatham behind the camera.
Although the producer and director took most of the time in their speech to applaud the senior actors Ananth Nag, Saikumar and Prakash Belawadi – the film Made in Bengaluru appears to be a saga of the middle class with values and morals.
Producer Balakrishna, hearing to the script from Pradeep Shastry, promised him to make a film. When he discussed the promise he made with his wife Rajni she asked her husband to keep up the promise. With the blessings of Sri Raghavendra Swamy the neat and clean film took off further. Like how Saikumar has told that his Police Story has completed 25 years, even my business house is also 25 years explained producer Balakrishna who has 600 plus employees in his empire.
Versatile actor Anant Nag took 15 days to approve. Later he suggested a few changes to his Hira Nandani role. He is following the Sindhi friend Pal Chandani (famous distributor and financier in Karnataka who is no more) and he dedicates his role to Pal Chandani.
Dialogue king Saikumar feeling happy for 25 years of his 'Police Story' that has given a new opening for him in the career stated that he completed 60 years and Shasti Poorthi celebration was held and in the same year he is completing 50 years on stage. I am definitely 'Made in Bengaluru' agrees Saikumar and even my brothers ground to stay here he admits. Knowing the presence of Anant Nag and Prakash Belawadi, I agreed to the role Saikumar mentioned. I have no combination with the two renowned actors and less of dialogue he stated.
Prakash Belawadi, a very fine actor with roots in journalism and theatre stated that this kind of films would bring back the glory of the golden era of Kannada cinema.
Sudha Belawadi (sister of Prakash Belawadi), Manjunath Hegde, Shankara Murthy, Ramesh Bhat, Vineeth and others are in supporting roles.
Veteran journalist Jogi (H Girish Rao), top literary personality connected to this team of 'Made in Bengaluru' disclosed his early days in Bengaluru.
A great devotee of Sri Raghavendra Swamy producer Balakrishna and his wife Rajani presented a life sketch paintings book of Sri Raghavendra Swamy that looks glorious.