MAHENDRA MUNOTH HELPS NEEDY
Posted date: 21 Fri, May 2021 01:07:54 PM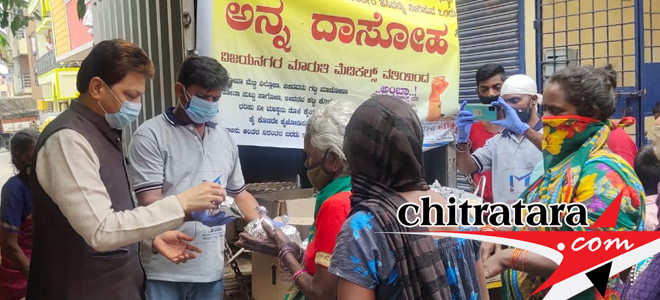 One of the prominent pharmacists in Bengaluru Mr Mahendra Munoth, actor, producer and man with great humanity besides his campaign for cow protection has stood as a helping hand to thousands of people in the Corona Pandemic situation in Bengaluru.
In the first wave, Mahendra Munoth and team helped thousands of people and now in the crisis period he is helping 3000 hungry people with good food every day. He is attending to the basic medicines for the poor people and everyone hails his service.
Director of Kannada film 'Kiladigalu' BP Hariharan joined hands in the great social work of Mahendra Munoth. Mahendra Munoth urged the people with good standing to help the needy people at this crisis period.
Kannada Cinema's Latest Wallpapers
Kannada Cinema's Latest Videos
Kannada Movie/Cinema News - MAHENDRA MUNOTH HELPS NEEDY - Chitratara.com
Copyright 2009 chitratara.com Reproduction is forbidden unless authorized. All rights reserved.