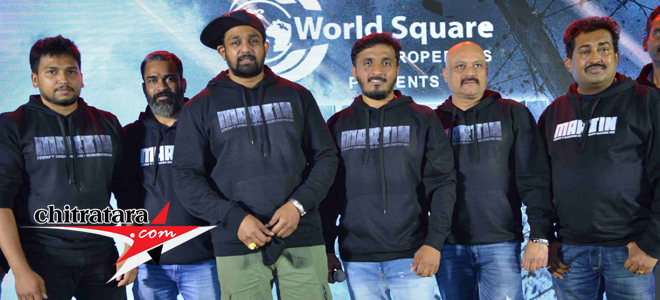 The rejoin of ace director AP Arjun and action Prince Dhruva Sarja (hat trick hero too) is happens after nine years in the production house of popular producer Uday Mehta. It was 'Addhuri' in 20012 that took quite a few years to make and it is 'MARTIN' today. The muhurut held on Independence Day at Ganesha Temple on West of Chord Road and in the evening the team came before the media at Taj Vivanta Hotel.
With a very good track record and systematic approach Uday Mehta of Vasavi Enterprises has taken a whopping budget cinema in his career.
The fifth film of Dhruva Sarja is in five languages. After 'Pogaru' he is back in another silent and violent role. He does not speak like how he used to do it in Pogaru.
'Martin' is the protagonist`s name – he is a student, a gangster, patriotic, lover boy in this action thriller. There is a love story too. This one has a college backdrop.It is not a joke dialogue becoming a trend.
'Martin' is in Telugu, Tamil, Hindi and Malayalam languages - the year 2022 hits the silver screen. The teaser is also in five languages for this Dhruva Sarja film.
December 20 2021 the shoot will be completed – it will be a four months shoot and how AP Arjun team works for Udaya Mehta production one has to wait and watch. AP Arjun, a producer from his last film 'KISS' , announced a film in his home banner a few months ago.
South India popular music composer Mani Sharma comes back to Kannada, Sathya Hegde is top grade cameraman for this film. Arun Balaji provided story, Screenplay handled by AP Arjun and Swamiji, Prashanth Rajappa written dialogues. Mahesh Reddy editing, AP Arjun lent the lyrics for this film. Dr Ravi Verma,Ram Lakshman, Anbariv, Silva and Ganesh are stunt directors.