NEE SIGOOVAREGU –SHIV-MEHREEN LAUNCHED
Posted date: 21 Sat, Aug 2021 03:21:17 PM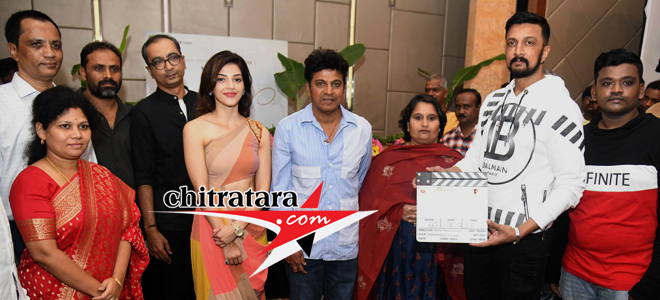 A poetic title suggested by Karunada Chakravarthy Dr Shivarajakumar for his 124th film 'Nee Sigoo Varegu' with female lead Mehreen Pirzada went on the floors at Sheraton Hotel on Tuesday morning. Abhinaya Chakravarthy Kichcha Sudeep present to the muhurut of the film added extra glow to the event.
Smt Geetha Shivarajakumar was present for the muhurut and surprisingly power star Puneeth Rajakumar was absent and the invitation printed had his name and photographs. At the entrance of Sheraton Hotel Puneeth Rajakumar placard prominently seen.
Heading the megaphone is a realtor turned director Ram Dhulipudi. He left the lucrative job to direct as a surprise element for the producer of this film N Srinivasa Reddy. According to Ram Dhulipudi it is a love cum emotional journey of two persons. He did not wish to divulge much about his film.
Kichcha Sudeep, present as guest for the launch, said Shiv at 124 itself defines him. His dedication and discipline brought him to this stage today. By his number of films I would have been father on screen he averred. What matters is that people still write love stories for Shivanna. Coming here and clapping for Shivanna film is a big issue. This team appears to be silent but it speaks a lot he lauded.
Producer N Srinivasa Reddy is confident of giving a blockbuster film. Music director Charan Raj is hopeful of a good work in music, visuals are also subject in this film proudly stated cinematographer Mahendra Simha. Co producer Srikanth Dhulipudi is confident of making a mark from this film. Swathi Varnapalli co producer thanked Shiva for giving Dr Shivarjakumar to the film. Ravi Santhehaiklu art director thanked Sudeep and Shivanna for setting films to roll.
Dr Shivarajakumar congratulating the producer Reddy garu for his birthday said it is a love story. There is a truth in the subject that connects all and the title is applicable for all characters in the film.
Debut in Kannada for Punjabi Mehreen Pirzada is seen in Telugu, Tamil and Hindi language films. She has been in the industry since 2016 and acting in her Kannada was her wish fulfilled now.
Kannada Cinema's Latest Wallpapers
Kannada Cinema's Latest Videos
Kannada Movie/Cinema News - NEE SIGOOVAREGU –SHIV-MEHREEN LAUNCHED - Chitratara.com
Copyright 2009 chitratara.com Reproduction is forbidden unless authorized. All rights reserved.