NINADE NENAPU ALBUM SONG TOUCHING
Posted date: 18 Wed, Aug 2021 07:07:32 PM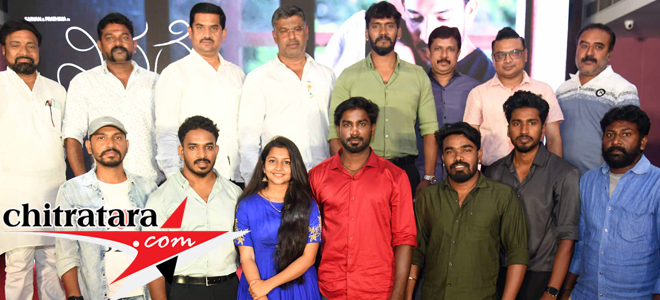 Here is a team of newcomers showing the growth to the tinsel town from just one song. That is `Ninade Nenapu`album song team of Chanakya Films.
The beautiful lyrics of Ghouse Peer Hrudayave Hrudayake Eega…. A tragic love story song concept is directed by MY Krishna,Vasuki Vaibhav singing has given a touching feel to the song and the participants in the song Sarvan and Prathima make a good pair. The tragedy is very strong and the lines like Tangali Tsunami….are good selections from writer Ghouse Peer. Melody tune from Rohit Sower, Ashok editing, Karthik cinematography is so near perfect and the locations like Ladak and Bengaluru are captivating for this song that is in Anand Audio youtube.
Noted producer Syed Salam, Narendra Babu,Ramesh and others were present at the album release at a private hotel in Singasandra on the outskirts of Bengaluru.
At the album release the other captivating one was the trailer of Flying King Manju `Panther` – in a rugged look with good dialogues Manju is going to make wonders in the coming days.
We thought of a small song but it grew up and took the best required recalls Sarvan addressing the crowded attendance.
This is the fourth album song for Prathima, a tik tok star too. In an video recording, Dr Shivarajakumar released the `Panther` trailer for Flying King Manju, the promising actor of the coming days.
Kannada Cinema's Latest Wallpapers
Kannada Cinema's Latest Videos
Kannada Movie/Cinema News - NINADE NENAPU ALBUM SONG TOUCHING - Chitratara.com
Copyright 2009 chitratara.com Reproduction is forbidden unless authorized. All rights reserved.