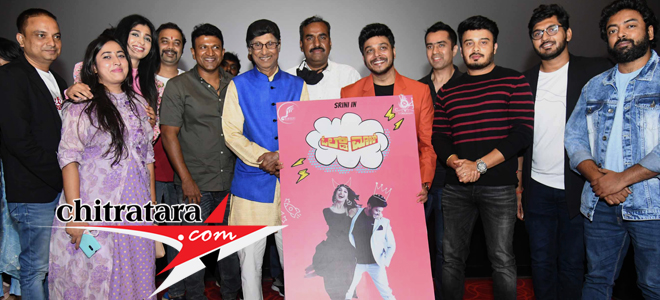 The noted director today from a few consecutive interesting films former RJ MG Srinivas alias Srini has come up with a pack of funny and interesting trailer of his next film `Old Monk` – watching Old Monk is like walking in the busy city market. It is so fast and funny but never fails to gather interest. Using the names of big wigs and adding `NO` is another new thought of Srini. Like the title `Old Monk` there are a few old comedy picks.
Power star Puneeth Rajakumar remembered the `Old Monk` brand and released the trailer of the film. It is quite interesting with a few double meanings and it should do well in the box office, he felt. Puneeth Rajakumar was felicitated from the team of `Old Monk`.
Prior to the release of trailer `Old Monk` the colleagues of Srini slightly pulled his legs. Out of 1000 scenes written he selects one, one has to think again to work with Srini disclosed by his colleagues surprised. Out of 37 time cutting done for the trailer he picked the 38th was again a compliment or complaint?
Srini of Topivala, Srinivasa Kalyana, Birbal and now Old Monk says it is difficult to make people laugh and cry. I make a deep thought on a minute thing and then take the decision. Even for the title there were 70 plus suggestions. I wanted the meaning of `Hale Sanyasi` in the title so we kept `Old Monk`. This is about the curse `Narada` receives from Lord Krishna he explained.
Sunil Raoh plays the role of Krishna in this film. veteran Kalatapasvi Rajesh is in a guest role. The team of Srini – wife Shruthi, Santosh, Prasanna, Amoga Varsha, Raghavan, Sujay Shastry, actress Adithi Prabhudeva, music directors Saurab and Vybhav, Anand Audio Shaym who said this film would become a `Laughter Brand` graced the occasion and shared their experiences.