RANGANAYAKA ON LOVELY SET
Posted date: 23 Mon, Aug 2021 11:34:01 AM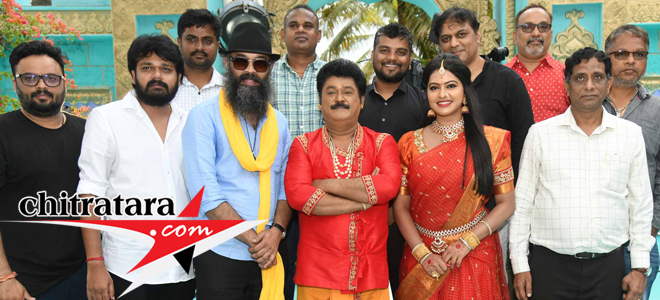 It is like Lord Srirama getting back the throne after 14 years of 'vanavas' for this rejoin of Navarasa Nayaka Jaggesh and extremely talented and talkative director Guruprasad.
After 'Mata' and 'Eddelu Manjunatha' the duo is there to give another titillating subject in 'Ranganayaka'. It is after 14 years of gap.
Apparently Guruprasad thought also goes back to 14 years. That is because he was thrilled with Jaggesh reciting 'Ranga Geethe' in his style and that he had in mind and made a script at that time. It was during 'Eddelu Manjunatha' time.
This is with the backdrop of a historical mood. There is a naughty king played by Jaggesh. The song for him is already a big sound among these filmmakers. Anoop Seelin 'Enna Manadarasi Ninna mane kaihoga, nanna pranasakha ni nindre enu sukha brahmachari budakke benki ittolu…welding welding andre wedding…baduko balitha bayge manna haka, enna manadarasa saaku Yee sarasa…is so funny indeed.
Prominently the shoot is in and around a palace. Some portions will be shot in London too for 'Ranganayaka'. Besides the historical backdrop the film also arrives to the present day. It is a lavish demanding cinema says Guruprasad so we have a set at Prajwal Raj studio that is 30 kilometers away from Bengaluru adds Guruprasad.
For Jaggesh the popular face in Tamil small screen Rachita Mahalakshmi is counterpart. She had acted in Sarvanan Meenakshi, Nam Iruvar Namak Iruvar', and it is a retro style role for this pretty actress.
Highly confident is Navarasa Nayaka Jaggesh. Mata and Eddelu Manjunatha hit films clips are very popular in social media and I would say nearly 150 bits of this film will be a good fodder for You Tube says Jaggesh. It is so funny and packed with good substance he says.
Guruprasad is roping in nearly 150 theater artists for this 'Ranganayaka' and it is no doubt a fine justice.
'Rangayanaka' is a Vikyat Production house venture.
Kannada Cinema's Latest Wallpapers
Kannada Cinema's Latest Videos
Kannada Movie/Cinema News - RANGANAYAKA ON LOVELY SET - Chitratara.com
Copyright 2009 chitratara.com Reproduction is forbidden unless authorized. All rights reserved.