RGV DANGEROUS IS KANNADA BEST FRIENDS
Posted date: 17 Mon, May 2021 08:57:27 PM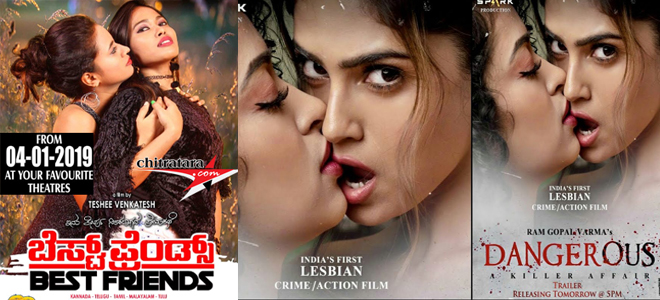 It is high time `DATA`of a film is available to all makers of this country. Knowingly or unknowingly the subjects repeat on the silver screen.
The recent one of topnotch director Ram Gopal Verma (RGV) is `Dangerous`. `Salinga Kami` lesbian's concept had come in Kannada in 2019 on silver screen.
It is talented director of Kannada cinema Teshi Venkatesh directed this film. It was based on a real life incident in Hassan district of Karnataka. It was `Best Friends` in Kannada. The film was released on 4th January 2019.
RGV has added crime and thrill in this 2021 `Dangerous` of the same subject. Naina Ganguly and Apsara Rani play lesbians roles.
Do not call them `Salinga Kamigalu`just call them `Salingaru`. Most of the countries have approved for life for `Lesbians`. We should have humanity for such people. We find one percent of the world population in this category, said Teshi Venkatesh at his media address in 2018.
`Best Friends` is about two girl friends. The fifty percent of the concept is based on a real life incident that happened on November 28, 2012 in Haasana district.
This is a film on section 377 of the Indian constitution. For thirty plus days, Teshi Venkatesh an intelligent filmmaker worked in Chickmagaluru surroundings. The film got U/A certificate from the regional censor board.
Best Friends is in the production of Lion Venkatesh of Sri Thirumala Cine Entertainment.
Meghana and Dravya Shetty are `Best Friends`of this Kannada film.
Kannada Cinema's Latest Wallpapers
Kannada Cinema's Latest Videos
Kannada Movie/Cinema News - RGV DANGEROUS IS KANNADA BEST FRIENDS - Chitratara.com
Copyright 2009 chitratara.com Reproduction is forbidden unless authorized. All rights reserved.