SHIVANNA SUPPORT WITH FOOD
Posted date: 18 Tue, May 2021 01:05:28 PM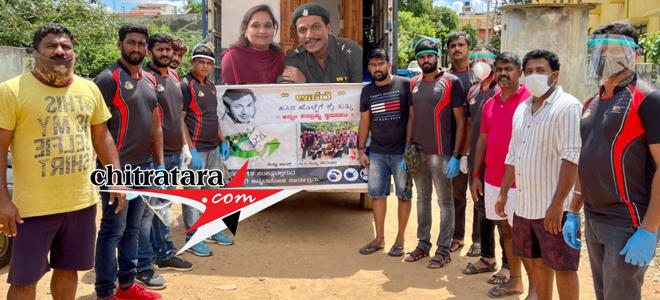 Dr Shivarajakumar `Kai Tuththu` for the residents of his locality is going on and it will stay for 10 more days. As of now, 500 are getting breakfast, lunch, tea and snacks. In case the lock down extends on account of Corona Pandemic the support to hungry mouths would continue for 1000 persons daily stated the Karunada Chakravarthy Dr Shivarajakumar and his wife Smt Geetha Shivarajakumar.
The team `Aasare`50 persons joined hands in meeting the hunger of the people in and around Nagavara colony.
Shivanna boys are doing systematic work for needy persons at Manyatha Tech Park and Nagavara locality.
Dr Shivarajakumar borrowed Bolero Quarto for this purpose and the slogan says 'Aasare – Hasida Hottege Kaithththu' .
Kudos to Dr Shivarajakumar, Geetha Shivarajakumar and Shivanna Boys for essential support for living in this crisis period.
Kannada Cinema's Latest Wallpapers
Kannada Cinema's Latest Videos
Kannada Movie/Cinema News - SHIVANNA SUPPORT WITH FOOD - Chitratara.com
Copyright 2009 chitratara.com Reproduction is forbidden unless authorized. All rights reserved.