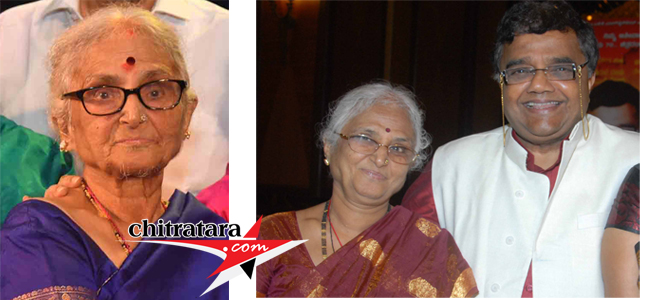 One of the humble and highly respected women from the big production house of Dwarakish Chitra – Smt Ambuja Dwarakish (80) hailing from Chitradurga district, wife of Karnataka Kulla, director, actor, producer veteran Dwarakish passed away on Friday afternoon after a prolonged illness.
Smt Ambuja Dwarakish leaves behind husband Dwarakish, five sons. Out of five one is in the USA, another one reached from Dubai to Bengaluru to join three siblings for the cremation on Saturday morning at TR Mills crematorium.
Smt Ambuja is an unforgettable partner of Dwarakish for so many reasons. In the days of the busiest schedule of Dwarakish she stood like a strong lady managing children and the huge family. Ambuja was like 'Annapoorne' for so many who used to come to Madras (now Chennai).
Ambuja was a great woman because she had permitted Dwarakish for a second marriage with Shylaja, a bank employee, during the shoot of Gowri Kalyana film with complete humbleness. In the same way, Dwarakish reciprocated this grand gesture of wife Ambuja when she lost control of her legs. Dwarakish had even sought the permission of his five sons in his important move to marry Shylaja.
Ambuja Dwarakish last function was 50th film production of Dwarakish Chitra 'Aayushmanbhava' function.
Let God give strength to veteran Dwarakish for the rest of his life. That is because he was never moving out of the house because of the ill health of Ambuja all these years.