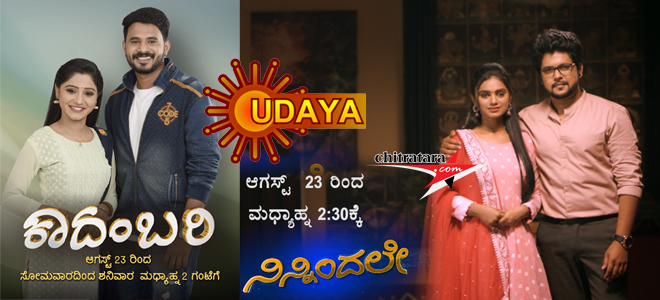 Udaya TV is known for its novelty in stories and experimental story flows which have been key factors in attracting the audience. Now it has come up with yet another show with a heart touching story.
"Kadambari" is the new show with fresh content which is produced by Sri Durga Creations. It is the story of a girl Kadambari from lower middle class family. As a child, her father has left the family promising to be back with money by earning abroad but unfortunately no one in the family has the slightest clue of his whereabouts till date. She has an elder brother who is a drunkard roaming around jobless. This has made Kadambari to shoulder the family responsibility to make ends meet. She is working in a garment factory and as her family's financial requirement is more, she has been left with no option but to work double shifts. Her workmanship and dedication has impressed her boss SudarshanChakravarthy.
'Kadambari' is not a typical soup of having a negative female character torturing the heroine but it is the story of a middle class family's genuine struggles when there is no man to support them. PavithraNayak is playing the lead role of Kadambari and Rakshith is playing the role of male lead Diganth. The show is being directed by Darshith Bhat, produced by Ganapathi Bhat. The music is by SunadGowtham& cinematography is by Krishna Kanchanahalli, this show has a fresh emotional treatment throughout. The screenplay is written by Girish Madyam, who has been the writer of our hit show Kavyanjali, the Dialogues are penned by Turuvekere Prasad who already are well known for their heart touching middle class soap for TV.
It has a veru good mix of new artist & well-known artists playing various roles. NagendraSha, MalathiSardeshpande, Suresh Rai, GayathriPrabhakar, Prathama Rao, Niranjan, Shwetha, Pragathi, Arpitha, PrithviYuvsagar, Likhita, Ashok B A, Radhika Shetty, Anand are playing major roles.
The show is all set to launch on 23rd of August at 2:00pm in Udaya TV
Ninnindale: Mon – Sat at 2.30PM
Udaya TV has become synonyms with entertainment, it is also known as the first private entertainment channel in Kannada. It has made a home for itself in the hearts of the people. With a varied genre of super hit shows, Udaya TV has been entertaining the people of Karnataka all these years.
From the yesteryears superhits, KumkumaBhagya&Rangoli to the current favorites Kavyanjali, Kasturi Nivasa, GowripuradaGayaligalu, Sundari&Manasaare, Udaya TV continues to win hearts of the people.
A new show, "Ninnindale" is being introduced into this bouquet of beautiful shows. Well renowned actor and writer Rajesh Nataranga is producing this Daily soap. Ninnindale is a beautiful story of friendship that blossoms into love. Under the banner of Dhwani Creations, Rajesh Nataranga is venturing into production of TV serials for the first time. This love story in also a reflection of the tradional Indian family values.
Rajalakshmi is the head of a big family, due to a feud with her son-in-law's family her big joint family has been divided into two. The only person who can bring the two feuding families is the wedding of Rajalakshmi's grandchildren, Ananya& Varun. Our heroine Ananya loves Varun more than anything but Varun has always considered her as his best friend. Will this friendship blossom into love is the crux of this story.
Legendry playwright Parvathavani's grandson SharathParvathvani has written the story & screenplay for which Vinod Mahadevan is writing the dialogues. Dileep Kumar has taken up the mantle of directing this beautiful story of love & friendship. Chitrashree is the heroine of this beautiful love story while Deepak essays the role of the hero. Well-known actors, Jayshree S Raj, Namitha Desai, Prashant Natana, Shobitha, Nandeesh form the supporting cast of this story of love, relationship and family.
Another feather in the hat of this daily soap is that the lyrics of the title song has been written by the famous literary writer & poet JayanthKaikini, composed by the newcomer Vasant & sung by Manasa Holla.
This story promises to be a beautiful mix of friendship, love, traditional family values & the tussle between good & evil.
The show is all set to launch on 23rd of August at 2:30pm in Udaya TV