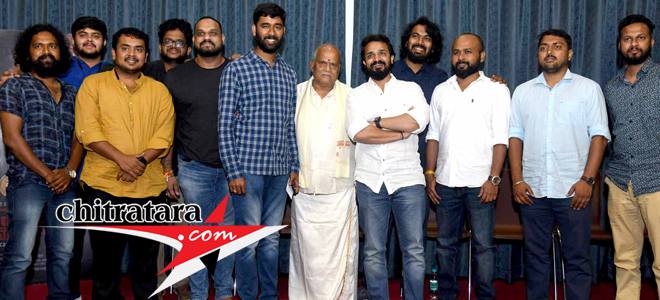 Another handsome actor from 'Dodmane' group Vijaya Raghavendra on his 50th film as hero has written a new history – this was not possible for any other stars so far in Kannada filmdom.
What is it? Vijaya Raghavendra 50th film 'Seetharam Benoy' Case No 18 made for OTT platform first released in Star Suvarna, later it got released in theatres on August 16 (doing well in over 50 plus theatres) and for a comfortable price sold to OTT platform. This is the shining story of the team of 'Seetharam Benoy' – the excited new team headed by director and producer Deviprasad Shetty. The team has announced another film and this will be launched at the Deepavali festival this year.
The team members came before the media with Vijaya Raghavendra father SA Chinne Gowda. 'Shrama and Prayathna' always get good results, felt the veteran SA Chinne Gowda.
Devi Prasad Shetty, director and producer of the film is happy for the film scaling heights from week to week. It is coming on the 25th day, he said. This is his debut. Except Vijay Raghavendra and music composer Gagan Baderia rest all newcomers he stated. He has the backdrop of Tulu industry.
The happiest moment is for Vijay Raghavendra – without coming before the media and coming after success is not intentional, he said. We thought only for OTT in the beginning and when the team learnt it is my 50th film as hero the level changed for the film he thanked his team. In fact, it is 64th film considering his child actor films. Vijay Raghavendra has four more films lined up now. His 55th film as hero will be for this team. We shot last August after the lockdown was lifted. After profit we have come to theatres is the one I did not expect he admitted.