Posted date: 26 Thu, Aug 2021 01:31:40 PM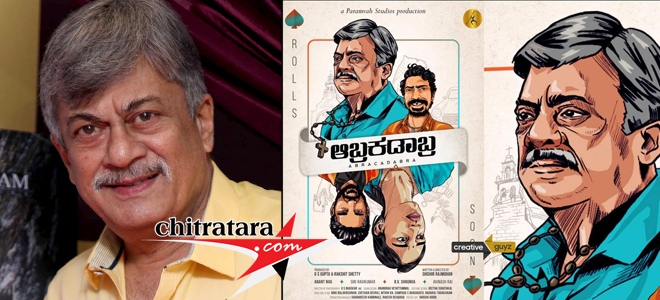 The famous column from veteran journalist K B Ganapathi in 'Star of Mysore' is now the title for a Kannada cinema and the top actor versatile Anant Nag is in stellar role.
A young Shishir is handling the direction and the poster of this film was released recently. Story and my role is reason for accepting the film disclosed Anant Nag and goes on a flashback. He remembers his days in Udupi where he stayed for a few years after his brother Shankar born. The film has that backdrop so it impressed me he adds.
Rakshit Shetty is producer of this film with Raj Mohan. Shishir worked with Rakshit Shetty team for some time. He had made an appealing script he says.
The film 'Abracadabra' has a magician inside the film. Shringa is performing this role. Siri Ravikumar, Avinash and others are in the cast. The film is on floor from 26th of August.
Kannada Cinema's Latest Wallpapers
Kannada Cinema's Latest Videos
Kannada Movie/Cinema News - ANANT NAG IN ABRACADABRA - Chitratara.com
Copyright 2009 chitratara.com Reproduction is forbidden unless authorized. All rights reserved.