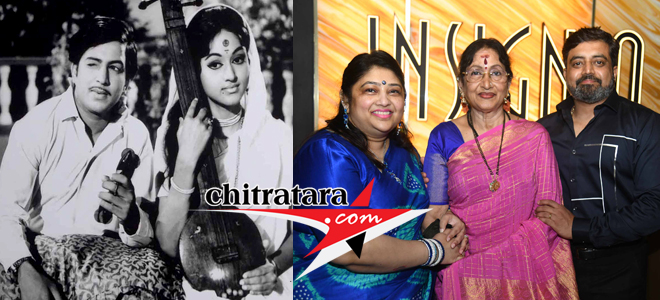 Legendary personalities rarely get opportunities to see themselves in professional careers. Padmasri Dr Bharathi Vishnuvardhana featured in two hours and twenty minutes 'Baale Bangara' feature film in the concept, narration, research and direction of Aniridh Jatkar. Apparently Anirudh an actor and writer is the son in law of Dr Vishnuvardhana and Bharathi.
The birthday month of Dr Bharathi Vishnuvardhana, the unique 'Baale Bangara' screening held at four screens in Garuda Mall. It is the production of Keerthi Innovations. Anirudh prepared very good questions. That even dates back to the days of 'Gandhada Gudi' controversy. In five and half hours, the final editing came to 141 minutes and 49 seconds, remembers Keerthi Vardhana. There are plans for the release of 'Baale Bangara' on the OTT platform, says Anirudh.
What is interesting is that the early life, professional life and an interview of this 'Baale Bangara' has more content compared to the 'Week End with Ramesh' that was telecast in Zee Kannada.
Dr Bharathi Vishnuvardhana patiently hearing the questions in different backdrops from son in law Anirudh Jathakar has disclosed some of the unknown issues.
· Dr Bharathi at the 100th film, Dr Vishnuvardhana Nagarahavu first blockbuster released. It is for the 100th day of the film that Dr Vishnu invited Dr Bharathi to come as a guest.
· The marriage of Dr Bharathi and Dr Vishnu was very hectic. There were pelting stones at the reception. The just married couple had no food to eat on the most memorable day.
· As life began there were thorns too. Vishnu and Bharathi had to live with 'Ganji Oota' for six months.
· At one point of time Dr Vishnu thought of giving his Benz car for travels and work as driver to fulfill the livelihood. But god's grace he got 'Hombisilu' Kannada film offer very soon.
· Dr Bharathi explained working for 24 hours and completing 100 films in 8 years. She used to sleep during break time in those days.
· It is Mane Belagida Sose – Dr Bharathi and Vishnu acted together.
· In my life I never thought I would be an actress. But I thought of a few things as age progressed. The thoughts I had in my mind, my husband fulfilled for him.
· I wanted to die on his lap in my life – this was my wish. But Vishnuji putting his head on my shoulder breathed last.
For the premiere of 'Baale Bangara' the KFCC President Jairaj, NM Suresh, Karnataka Chalanachitra Academy President Suneel Puranik, Priyanka Upendra, Sudharani, Shruthi, director Naganna, Nagathihalli Chandrasekhar, veteran Hema Chaudhary and others were present.
The feature film 'Baale Bangara' contains the opinions of Dr B Saroja Devi, Hema Chaudhary, Dr Shivarajakumar, SK Bhagwan, Bhargava and others included by Anirudh Jathakara.