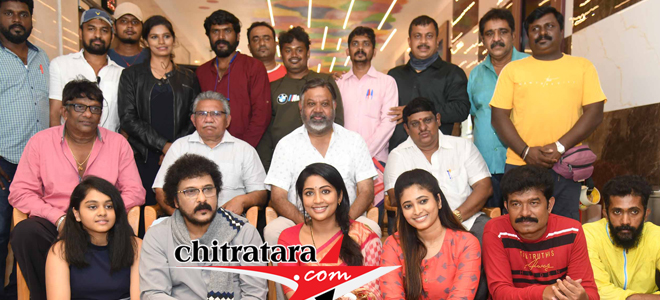 The super hit Kannada film of crazy star V Ravichandran and top director P Vasu combination has come again in 'Drishya 2'. The shooting for this film has ended and the team is firm on releasing the film in theatres instead of any other platform.
Director P Vasu, actors Navya Nayar, Arohi Narayan, Unnathi present at the media briefing of the film.
Addressing the media crazy star V Ravichandran stated that this film will be released only in theatres – My career lift has come from theatres. The showman of Kannada cinema Ravichandran feels the shooting for the last 38 days given him the feeling of two families. Like how I love my family in real life, it was similar at the shooting spot. As the film concluded the set boys were in tears. I have given free date for this film. I will be present on any day and time.
We have done Drishya in 2014 and seven years later I see the same Ravichandran. It is not a sequel but like prequel. We have adopted changes to the Kannada nativity. More prominence attached to comedy via Sadhu Kokila who continues and Ananth Nag does a prominent role stated P Vasu addressing the media.
A talented actress Navya Nayar feels happy and pride for coming back to Kannada. I had not got so much of love what I got here in Kannada from other industries. Felt like working with my family. There is no need to mention about Ravichandranji. He is so committed added Navya Nair.
Drishya 2 is a family film and it is sure to bring in family audience to the theatres is the strong hope of this team.
Mukesh R Mehta and CV Sarathi's E4 Entertainment are producing this film.