KABZA SHOOT – UPPI INJURED
Posted date: 04 Sun, Apr 2021 12:43:37 PM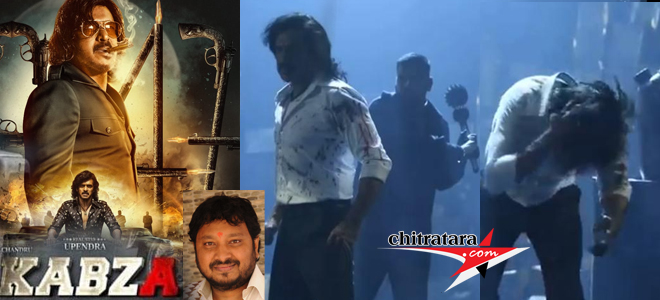 The super star Upendra was hurt on the right side of his head in an action scene. The set was at Minerva Mills. Director cum producer R Chandru immediately attended to the medical needs. Upendra not worried on a blow he received while escaping the hit said let us do shoot.
Super star Upendra receive minor blow when the iron rod splashed behind him and he was supposed to bend and escape it but rod touched the head.
Some more precautionary measures taken by director and producer R Chandru at the shooting spot and shooting is in progress. Past 20 days shoot is taking place for 'Kabza' a pan India cinema.
For this film director Chandru has made nearly 40 sets for shooting purpose.
Kannada Cinema's Latest Wallpapers
Kannada Cinema's Latest Videos
Kannada Movie/Cinema News - KABZA SHOOT – UPPI INJURED - Chitratara.com
Copyright 2009 chitratara.com Reproduction is forbidden unless authorized. All rights reserved.