KTV GOOD MOVE TO GET VACCINE
Posted date: 19 Wed, May 2021 12:40:30 PM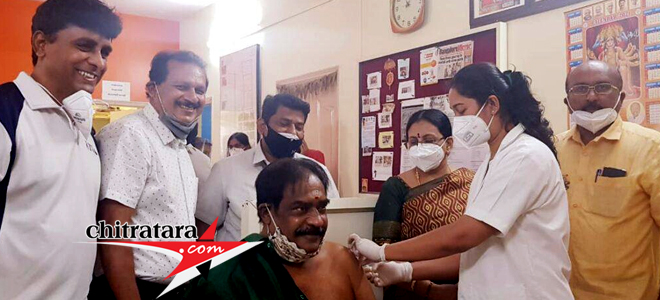 In a way, the Karnataka Television Association is ahead of the Kannada Film Industry. Reason – KTV has been able to get approval for vaccination for its thousands of members first.
The KTV President Shivakumar met the Revenue Minister Ashok and BBMP Lakshmikanth in advance and the approval was sanctioned recently.
The Kannada Film Industry members Sa Ra Govindu, KM Veeresh, Naganna, Saphire Venkatesh recently consulted the health minister Dr K Sudhakar to get vaccination for Kannada film industry members and very shortly it will be approved.
KTV Members and family are getting the Covid vaccination and in three days, the vaccination is given. From May 18 to 20 the vaccination is given to members who are above 45 years of age.
Kannada Cinema's Latest Wallpapers
Kannada Cinema's Latest Videos
Kannada Movie/Cinema News - KTV GOOD MOVE TO GET VACCINE - Chitratara.com
Copyright 2009 chitratara.com Reproduction is forbidden unless authorized. All rights reserved.