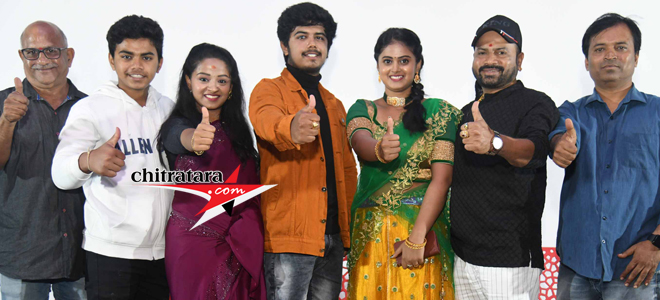 Father Chandrasekhar writing story, acting in a prominent role and producing the film with his two sons – Abhay as hero and Thejas as comedy actor in the film 'Manasagide' is nothing but Putra Vyamoha!
The film has completed shooting and is waiting for clearance of 100 percent permission to exhibition. In Bengaluru and Chikmagalur the shoot was completed in three schedules. There are four action portions and in heavy rains, the shoot was held, remembers producer S. Chandrasekhar.
Director Srinivas Sidlaghatta is happy for completion and the lucky factor is that the film took the necessities. Nature came to our help. The film is about Manaviyathe and Love – there is a struggle between the two protagonists.
We have taken a risk and completed the shoot in 40 days, says protagonist Abhay. This film has all elements of a commercial cinema and family entertainer, he says.
Athira makes her debut in an innocent, emotional and romantic role. Meghasri feels very happy for the very quick work done for the film. My role is very practical in thinking, she says.
Second son of producer Chandrasekhar – Thejas demanded the role from his father. He is brother to the heroine Athira in the film.
Cinematographer Shanker says 70 percent of the shoot was held in rain. Manasa Holla scores music, Shivaprakash Yadav done editing, Thriller manju has done four action portions.
K Kalyan, Kaviraj, Arasu Anthare, Dr V Nagendra Prasad, Remo contributed a song each. Raghu Niduvalli is a dialogue writer.
Suresh Rai, Bhavyasri Rai and Sooraj, Anish, Chidu, Dheeraj, Deepika, Divya, Pramod Jain of 'Comedy Kiladigalu' fame have given the funny moments for the film.