Posted date: 06 Tue, Apr 2021 06:20:46 PM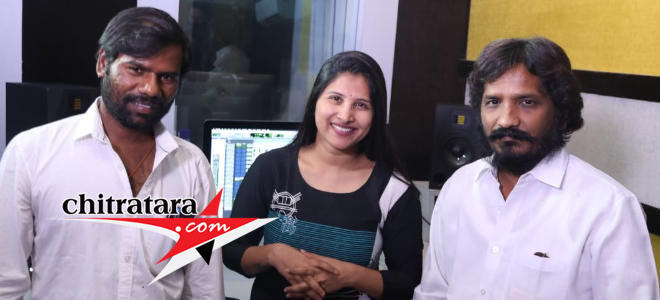 The famous Indian playback singer hailing from Banjara community with Carnatic music Sathyavathi Rathod alias Mangali is very popular for her 'Kanni Adhrindi….song in challenging star Darshan 'Roberrt' Telugu song.
This very famous singer has arrived to a Kannada film via 'Kariya I Love You'. Mangali gets tumultuous welcome where she goes for her voice quality and pitch. She commenced her initial days in Hyderabad and Bengaluru doing anchoring.
Sri Manju Productions Manjunath Mathad produced film 'Kariya I Love You' song sung by Mangali is 'Mai Kai Tumbikondu Bandavalanthe Mai Mele Bilabedro….. is penned by director of the film Thippesh Haluvarthi.
Dhanraj Chauhan cameraman, Harikrishna dance, Shivaraj Mehu editing, Chandru Bande stunts film 'Kariya I Love You' (starting line of 'Dhuniya' super hit film) has story, screenplay, dialogues and lyrics by Thippesh Haluvarthi.
Manju Ballari, Shakuntala, Anjanappa, Girish Jatti, Chandraprabha (Mahabharatha fame), Mahesh Biradar, Asha Sujay, Susheela and others are in the cast.
Kannada Cinema's Latest Wallpapers
Kannada Cinema's Latest Videos
Kannada Movie/Cinema News - MANGLI DEBUT IN KANNADA - Chitratara.com
Copyright 2009 chitratara.com Reproduction is forbidden unless authorized. All rights reserved.