NANAGU LOVVAGIDE LAUNCHED
Posted date: 21 Sat, Aug 2021 03:37:15 PM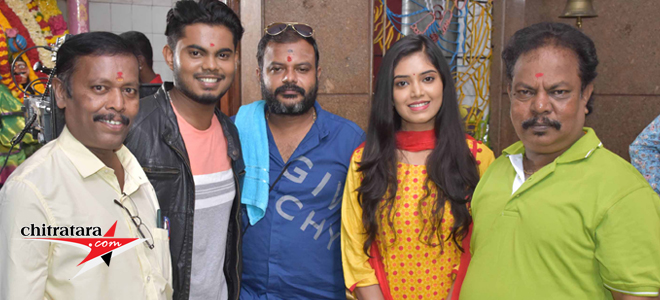 The brisk day for film media on Varamahalakshmi Day started with a visit to a burial ground in the morning to collect news at the muhurut of `Nanavu Lovvagide`. Sri Kalikamba Temple that is inside the Sampangiramanagara burial ground was rendezvous. The debut hero tying the Mangalasutra to the heroine, a debutant was first shot captured in the camera.
A new team with new hope looked optimistic. It has become normal to make debut with love story subjects. The Putravyamoha of K Neelakantan is introducing his son to cinema. K Neelakantan has penned a story besides producing this film for his son Som Vijay. Roshini is the female lead in this film with Shwetha, Babu, Dore, Karthik, Naveen and others.
With very good experience in Vajreshwhari company Vijay Rajashekhar is directing his fifth film. It is a love story but beyond love, there is a very interesting element. He is also appearing as a villain in this film. A boy from Belagavi comes in search of a job and a girl from an aristocratic family falls in love. Now the effort of the girl`s father to dislodge this pair. The villains chase and the ruckus begins.
Music director Vijay Needu has recorded two songs – Nee Nanage….is sung by cop and Sarigamapa 17contenstant Subramanya, while Nanagu Lavvayaithu Nenedu Novaayithu tragic song is sung by Runner up of Sarigamapa 17 Kambada Rangayya. Supreme Subbu stunts, TK Satish dance included in this film technical team.
The shoot for this film is planned in two schedules at Belagavi, Chickmagaluru, Sakaleshpura. Frame Shot Studio film has Nagesh Shetty cinematography.
Kannada Cinema's Latest Wallpapers
Kannada Cinema's Latest Videos
Kannada Movie/Cinema News - NANAGU LOVVAGIDE LAUNCHED - Chitratara.com
Copyright 2009 chitratara.com Reproduction is forbidden unless authorized. All rights reserved.