RAGINI BIRTHDAY IN MEANINGFUL WAY
Posted date: 27 Thu, May 2021 08:24:07 PM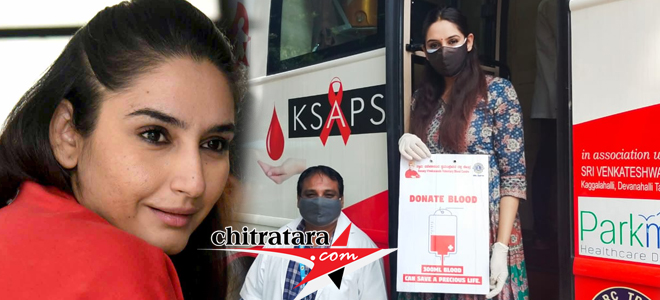 The popular actress Ragini Dwivedi this year 24th May, 2021 birthday celebration was quite different. Ragini Dwivedi is already busy in providing food and other necessities to the needy people. She has been doing it from the first wave also.
This year, taking out time from her regular social service on her birthday organized a blood donation camp and felt happy for another kind of support to the needy people.
Doing blood donation is a very good aspect in life; you would get fresh blood floated inside your body. It helps many in need of blood. My parents have supported me growing and thinking like this, says Ragini Dwivedi.
Helping the needy in life gives satisfaction. Thousands of packets of food are served to the deserving people in this crucial pandemic situation by Ragini Dwivedi and her Gen Next Service association.
Kannada Cinema's Latest Wallpapers
Kannada Cinema's Latest Videos
Kannada Movie/Cinema News - RAGINI BIRTHDAY IN MEANINGFUL WAY - Chitratara.com
Copyright 2009 chitratara.com Reproduction is forbidden unless authorized. All rights reserved.