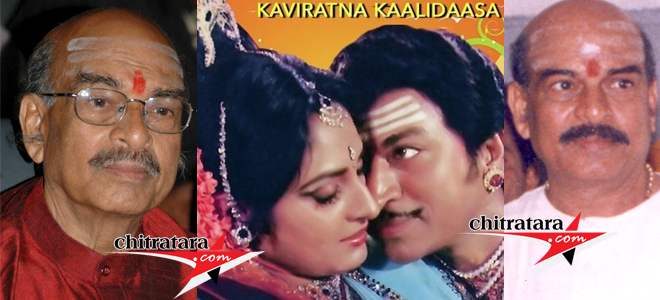 The veteran director Renuka Sharma the winner of 2007-2008 Puttanna Kanagal award has been hospitalized due to low BP long ago. The latest is that he succumbed to Corona Pandemic on Thursday morning at Girinagar hospital. He was aged 81, leaving behind a wife and 2 daughters. The cremation is taking place today.
Renuka Sharma known for mythological films began his career in 1960 as assistant director from 'Sarvagna Murthy'. The association with stalwarts like Aroor Pattabhi, RNR and Hunsur Krishnamurthy obviously gave him extra edge to take up mythological films.
The epoch making films like 'Kavirathna Kalidasa, Kolluru Mookambika and others are unforgettable in his career.
From Anupama (Ananth Nag, Madhavi, Balakrishna, Sudha Sindhur and Umesh – Vijaya Vinayaka Movie Makers) he became independent director and went on direct films like Kavirathna Kalidasa starring Dr Rajakumar and Jayaprada that was a huge hit in Kannada. The film Shabarimalai Swamy Ayyappa was the top hit of Renuka Sharma that also took part in Indian Panorama in 1991. Anjadha Gandu (Ravichandran), Adrushta Rekhe (Kashinath), Sathkara (Ambarish, Ambika) Shabash Vikram (Ambarish), Daiva Shakthi (Ananthnag Bhavya), Bhadra Kali (Sridhar Mahalakshmi), Namma Ooora Devathe (Charanraj), Hatamari Hennu Kiladi Gandu (Malashri), Barjari Gandu (Raghavendra Rajakumar), Muthaidhe (Ananthnag Bhavya), Kindara Jogi (Ravichandran), Varagala Bete, Kolluru Sri Mookambike, Professor and others are in the list of 20 plus films.
He was given the Singanallur Puttaswamaiah award from Dr Rajakumar family at the KANFIDA on 5 October 2008.
Renuka Sharma had taken up 'Ishwara Alla Neene Ella' for Khoday group and working on another television project with the Khoday group 'Santha Shishunala Sharief'.