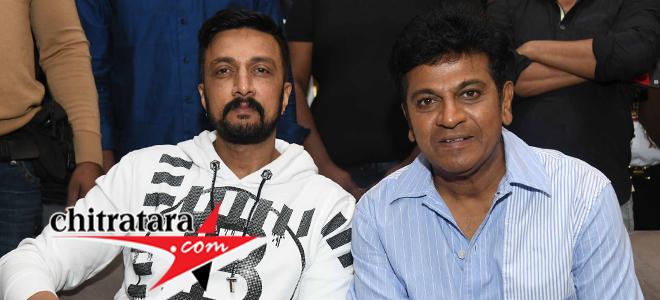 Abhinaya Chakravarthy is going to direct Karunada Chakravarthi! Yes, the flash of this mega project came before the media on Tuesday morning 17 August 2021 – when this would take a definite shape is a matter of time.
At the launch of Karunada Chakravarthy Dr Shivarajakumar 124th film 'Nee Sigovaregu', Abhinaya Chakravarthy was chief guest. Sharing the platform with the two power houses exchanging pleasantries, the issue of Shivarajakumar acting in Kichcha Sudeep direction came up.
Shiv feeling proud of a love story coming to him was in his usual mood and he said Sudeep narrated a subject to him and it is fine if he directs it. Kichcha Sudeep immediately taking the mike from anchor Anusha Gowda said he is honored to do this direction. For his film 'No 73 Shanthi Nivasa' a dance number of Shivanna directed in the past Kichcha recollected.
Kichcha Sudeep felt happy for love story subjects still coming to him at his, 124th film defines Shivanna. For me a love subject when did I do he stated. There is no one writing a love subject for him, he lamented.
Kichcha Sudeep was in a very good mood at 8.30 am. When the heroine Mehreen Kaur of 'Nee Sigovaregu' said to Shivanna, he said don't call him 'Anna' – it means brother. Call him 'Darling'suggested Sudeep.
It is time to calculate when the super Jodi of 'The Villain' is coming together!