USIRE USIRE RAJIV TURNS HERO
Posted date: 23 Mon, Aug 2021 11:45:40 AM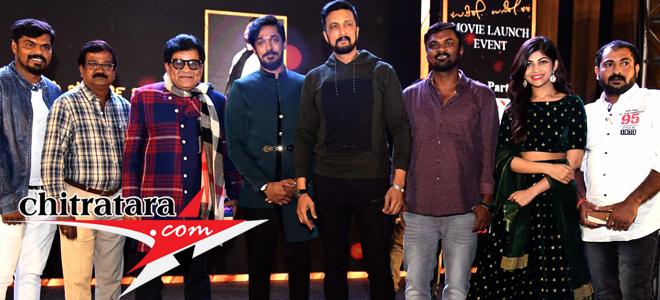 The handsome looking after Rajiv, an attractive cricket player that he proved in the CCL matches comes up with a strong role in 'Usire Usire' – after 10 years Rajiv turns hero is the happiest news for Kichcha Sudeep. He always wanted to see Rajiv as a hero on the silver screen.
It was one of the journeys with Kichcha Sudeep, an actor in sundry roles, who heard the song from 'Huchcha' (Kichcha Sudeep blockbuster movie) Usire Usire Nanna Usiru Kollabeda…. And suddenly the thought of picking the starting lines 'Usire Usire' was registered, recalls Rajiv.
Rajiv`s best friend Kichcha Sudeep came to the poster release of the film. For Rajiv this film was decided after his return from the Big Boss show.
Kichcha Sudeep speaking on this occasion of poster release at Taj Vivanta on Varamahalakshmi Day lauded the innocence in Rajiv. His wife is intelligent. He would have been in a good position in Cricket had he taken it seriously. I wish good luck to producer Pradeep and all the best to my friend Rajiv stated Sudeep. The silver pen presented to Sudeep was handed over to the director of the film for his good address on this occasion.
Although I acted in quite a few films it took 10 years to get this spot stated Rajiv. He thanked Sudeep immensely for his presence. I have not done any work for this film. It is a natural role. I need all your blessings stated Rajiv for the fruits of his four years effort connected to this film.
Director CM Vijay disclosed his words are turning food from this film. It is a Pukka love story. We have seen numerous love story films. It is a distinct addition to that list and I wish to start shooting from September this year.
N Gombe Productions producer Pradeep Yadav is confident about the subject. It touched my heart and so I am here, he said.
Srijith Ghosh making debut as heroine said it is quite different from her earlier movies. Famous Telugu comedy actor Ali liked the subject and agreed to act. He remembered his acting with Ambarishji in 1983 in 'Ekalavya' Kannada film.
Vivek Chakravarthy scores music and Saravanan is cinematographer for 'Usire Usire'.
Kannada Cinema's Latest Wallpapers
Kannada Cinema's Latest Videos
Kannada Movie/Cinema News - USIRE USIRE RAJIV TURNS HERO - Chitratara.com
Copyright 2009 chitratara.com Reproduction is forbidden unless authorized. All rights reserved.