YELLOW BOARD UNIQUE CONCEPT
Posted date: 26 Thu, Aug 2021 01:33:46 PM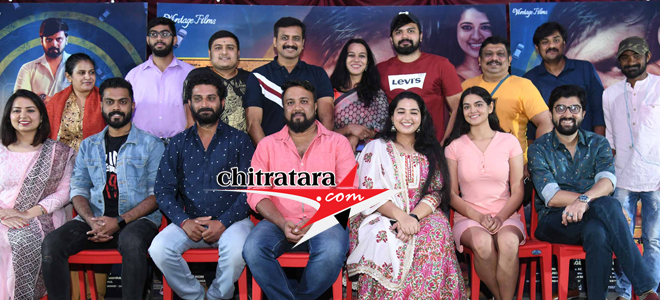 What happens when the policing job is handed over to cab and taxi drivers? Ten times cab and taxi drivers are available on streets 24x7. The same scale of appearance to avoid atrocities on young girls and women is not possible from the police department.
This is a debatable issue in the interest of the society. Is it possible? The film 'Yellow Board' looks in to such issues. According to the protagonist, Pradeep the issue will be placed before the public and it is they who have to bring pressure to the government to think upon this point of view.
A film has to be debated and discussed. This is exactly why 'Yellow Board' in the debut direction of Trilok Reddy is happening. Trilok Reddy leaving his software profession worked as assistant director and now comes up with an issue for his film that is all set for release.
The trailer and one song Pritiye….shot on Pradeep and Ahalya Suresh was screened at Renukamba digital theatre for the media.
For all Bengaluru is like 'Rangamandira' – people from different places come here to live. The film shoot is held mainly in Bengaluru and some portions in Gokarna.
Pradeep is back after 'Tiger' Kannada cinema. He is very confident of the good response. He plays a taxi driver with a minimum of costumes. He has travelled in different cabs to know the nature of them to inculcate in his role. The implementation of this film thought it would be good for society development, he says.
Adwik scores music for seven songs. Ahalya Suresh is Priya has two shades in the film – she is naughty and mature later on. Sneha is Monisha, a strong and independent character. Srinivas B is Inspector Suryakanth for the first time and he had three surprises connecting this film. Amith represents the Hubli-Dharwad part and evokes laughter, Chandana is a journalist, Ashwin Haasan is Gedde who is rough and good at heart, Bhavani Prakash is a lawyer, Ashwin Kodangi says white and white is Khaki in a constable role.
Naveen is executive producer of the film and the main producer of this film did not surface so far.
Kannada Cinema's Latest Wallpapers
Kannada Cinema's Latest Videos
Kannada Movie/Cinema News - YELLOW BOARD UNIQUE CONCEPT - Chitratara.com
Copyright 2009 chitratara.com Reproduction is forbidden unless authorized. All rights reserved.