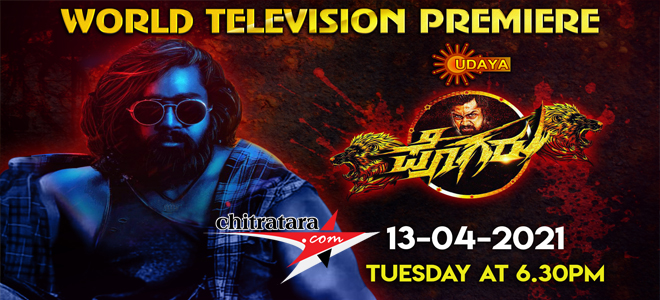 Pogaru is a 2021 Indian action drama film written and directed by Nanda Kishore and produced by B. K. Gangadhar. It was shot simultaneosly in Kannada and Telugu languages and later dubbed into Tamil.
The film stars Dhruva Sarja and RashmikaMandanna as the lead couple, with Chikkanna, P. Ravi Shankar, PavitraLokesh, and RaghavendraRajkumar in supporting roles, and Sampath Raj, Dhananjay, Kai Greene, Morgan Aste and Dharma as antagonists.
Chandan Shetty and Gummineni Vijay composed the soundtrack, while V. Harikrishna composed the background score. Cinematography and editing are performed by Vijay Milton and Mahesh S respectively.
On the occasion of Ugadi Udaya World Television Premier Movie "POGARU" will be telecasting on Tue (13.04.2021) at 6.30PM.
Fiction:
Udaya TV is bringing Ugadi Gift to all its viewers From April 12th to the 17th, Ugadi festival will be a spectacular day of entertainment. The festivities is set to take place from 6 pm to 10:30 pm with a variety of serials celebrating Ugadi in their shows.
Prathana in Manasaare is all set to get marry to Yuvaraj with blessings of her Father. The Urs family of Kaavyanjali will witness the marriage. Anand has not accepted Prarthna as his daughter but agreed to marriage. This surprising turn of events and much more drama &hungama are going to happen in the serial. The marriage will go through lots of twist turns and keep the audiences engaged in the celebrations that is going to take place. Witness this amazing celebration of love and strong family values in Kaavyanjali and Manasaare Mahasangama. The Kavyanjali and Manasaare Mahasangama is happening from 14th Apr-17th Apr from 8.30 pm to 9.30 pm.